The motion of your knee with a CPM machine or ROM-solution is exactly the same. With the ROM-solution the motion is circular and with a CPM it is linear. The CPM is a passive way of restoring mobility and a ROM-solution is an active way. Contact us for more information.
Yes it is; the ROM-Pedal is suitable for all types of bikes! If you are not sure? Please contact us.
Yes you can; in this situation the middle of your foot will be on your pedal instead of the ball of your foot. Please contact us.
You can easily take the ROM-Pedal with you on your holiday. Not all bike shops are familiar with the ROM-Pedal. The correct installation is important, therefore always take the installation manual with you. Contact us for more information.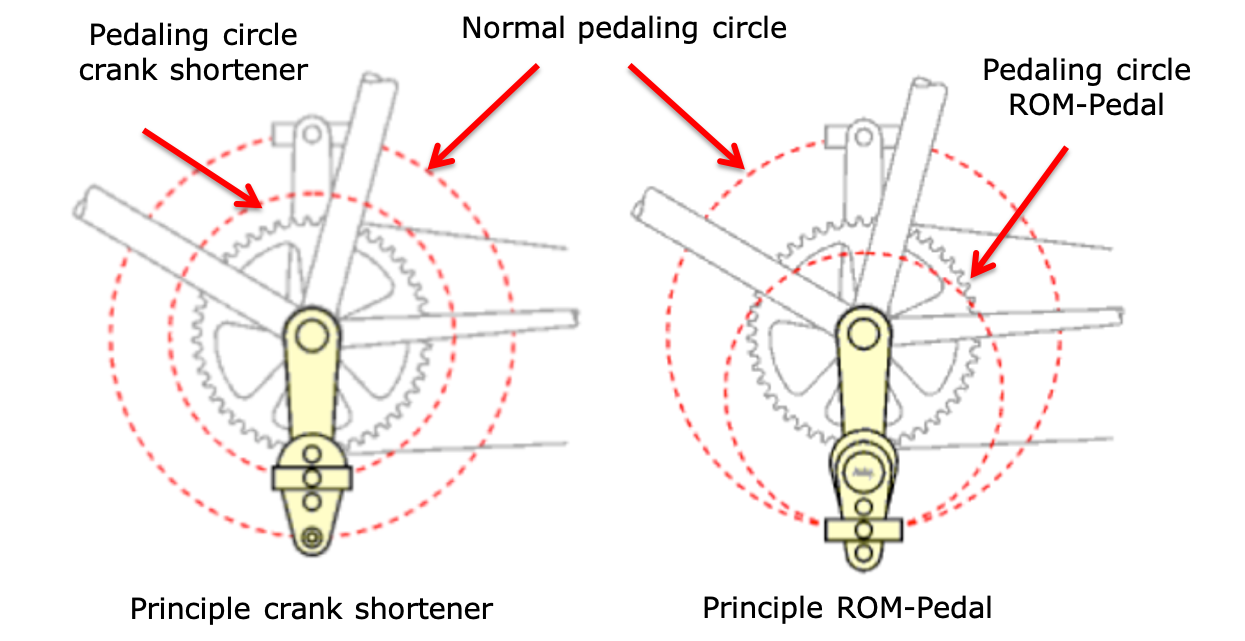 In the picture the difference is shown. The extension of your leg is the main difference when used at one side. With the ROM-solution, the extension of your leg does not change and with the crank shortener it will limit your extension. In this situation you cycle asymmetrical, what makes cycling uncomfortable. Best to be compared with the situation of walking with one leg on the road and having the other one on the sidewalk. Most people only have a limitation in bending and not in their extension. Please contact us for more information.
This question we get more often. That's the reason why a personal advice is important, and we will give you the possibility to try the ROM-solution first. Contact us for more information.
ROM means Range of Motion, an abbreviation used for the range of motion of a joint. By using a so-called eccentric pedal circle the movement of the knee- or hip joint will be influenced and controlled. This is exactly what our ROM-solutions do.
If you have any questions, please do not hesitate to contact us. We will be happy to tell you more about our products.
The pedal is mounted at the end of a metal arm. This metal arm is called crank (or pedalarm).
Do you have any other questions?