For people with a limited function in hip or knee, a good cycling device wasn't available so far. Due to this, my mother had to stop cycling. The impact on her daily life was huge.
This was the reason to start developing a solution for her cycling problem. Later we learned that she's not the only one: there are much more people who want to keep their mobility with their present (electric) bike. Or people who want to pick up their daily live as soon as possible after a knee or hip surgery or with a leg prosthesis.
Fietsen op Maat is specialized in cycling devices for people who cannot fully bend and/or stretch their knee, hip or prothesis.
Our devices are developed to fit on the existing bike, exercise bike or ergometer.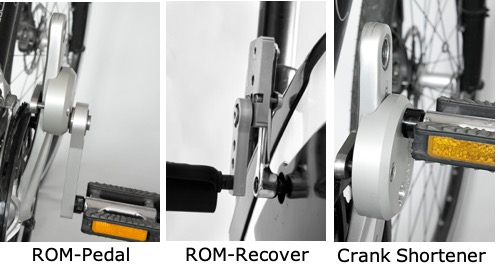 The solutions for maintaining your bike mobility or to speed-up your recovery at home or at the physiotherapist are:
• ROM-Pedal for your bike
• ROM-Recover for your exercise bike or ergometer
• Crank shortener for cycling with a difference in leg length
What is ROM?
ROM means Range of Motion, an abbreviation used for the range of motion of a joint. By using a so called eccentric pedal circle the movement of the knee- or hip joint will be influenced and controlled. And that is exactly what our ROM-solutions do.
Interested?
For more information, please visit the specific pages for each device on our website.
Or even better: contact us by email or phone.
We wish you lots of joy in riding your bike again!