The ROM-Pedal, also called pedal pendulum or swing crank, enables people with a limitation in knee or hip to cycle again. When cycling, the proper leg stretch/extension will remain the same. The eccentric pedal device will be mounted against the existing crank (pedal arm) of your bike. How it will function is demonstrated in the video below.
Most important features
Cycling with a 70 degrees knee angle (flexion). In comparison: when you do not have any limitation in your hip or knee, the required bending (flexion) of your knee is about 120 degrees when the pedal is in the most upward position.
Adjustable towards 85-95 and 100-110 degrees knee flexion.
It maintains the proper cycling position, leg extension and foot placement on the pedal.
A quick and easy installation with the use of your existing pedal within 15 minutes time.
Suitable for all types of (electric) bikes.
The ROM-pedal is made of high-quality aluminum, anodized in a neutral finishing.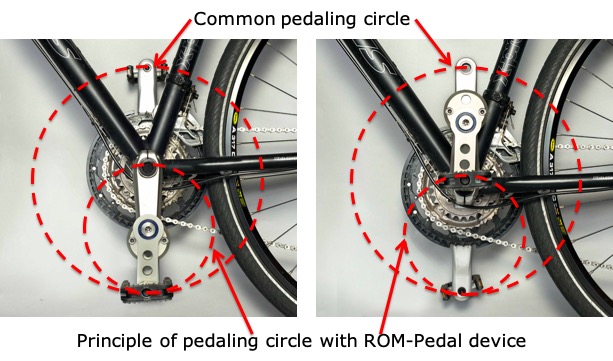 Installation
The ROM-Pedal is suitable for all types of (electric) bikes. The installation of the ROM-pedal is quick and easy. A clear installation manual will be provided.
Ordering or more information needed?
If you have any questions regarding the ROM-Pedal, please do not hesitate to contact us by email or phone.
Price ROM-Pedal: € 179,- per piece (including 21% VAT).
Parcel shipment:

€ 16,- within the EU
€ 25,- outside the EU.
Note: all prices are excl. import duties and taxes, if applicable.
Please use the following description when placing your order:
• ROM-Pedal device – left leg
• ROM-Pedal device – right leg